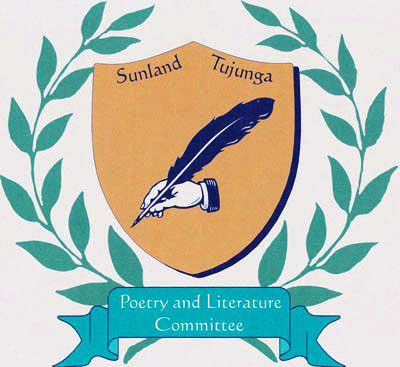 Poets Laureate of Sunland Tujunga

MAJA TROCHIMCZYK
POET LAUREATE 2010-2012




Maja Trochimczyk ("Ma-ya" "Tro-HIM-chick") with the Laureates' "laurel heart" and a music box. Quotation from "Tiger Nights" published in The Epiphany Magazine and Rose Always. Portrait (C) 2010 by Ronna Leon, Used by Permission. August 2010, McGroarty Art Center.
It was an honor, as well as fun, to have served as the Sixth Poet Laureate of Sunland-Tujunga. My term ended in April 2012; it started two years earlier, with the Passing of the Laurels ceremony at the McGroarty Arts Center in Tujunga.

In the presence of many guests, poets, officials, and friends, I placed a wreath of laurel leaves (actually a local bush, similar to an olive), on the head of Dorothy Skiles, who has been selected to serve as the Seventh Poet Laureate of Sunland-Tujunga. My mission to seek happiness through poetry has not ended, though, and neither my various poetry-related projects, such as my monthly column in our local paper, Voice of the Village, my participation in the Village Poets activities (planning the monthly readings), and my contributions to Poets on Site. I received a new set of congratulatory messages from the offices of County Supervisor Michael Antonovich, City Councilmembers Richard Alarcon and Paul Krekorian, and State Assembly Member Cameron Smyth. Below you will find a record of my activities during my term. Other information and updates are on my Poetry Laurels Blog, and my website, especially the Poetry section.




The motto for my two years as Poet Laureate was
"Poetry ... in pursuit of happiness" My activities have included public readings, appearances at civic ceremonies, participation in art festivals and community events. I have also decided to publish an anthology with work by local poets. The anthology evolved into a somewhat different project, an anthology of spiritual poetry, Meditations on Divine Names which appeared in March 2012. You may see the list of events below.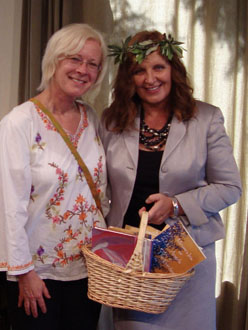 Maja Trochimczyk with Marlene Hitt, first Poet Laureate of Sunland-Tujunga and poet Elsa Frausto. April 25, 2010, McGroarty Art Center, Tujunga.
On April 25, 2010, the Passing of the Laurels Ceremony was held at the McGroarty Art Center, Tujunga, with Joe DeCenzo doing the honors on behalf of the Sunland-Tujunga Poetry and Literature Committee. The event included presentations by Claire Knowles, Director of McGroarty Art Center, Dorothy Skiles, President of Village Poets, Mary Benson from Paul Krekorian's office, music performances and poetry readings by Joe DeCenzo, Elsa Frausto and myself. I received Certificates of Congratulations from State Senators Bob Huff and George Runner, and Los Angeles Councilman Paul Krekorian.
My reading included a poem I wrote especially for this occasion, What I love in Sunland. You may download the poem in Word format here. My Poets' Cafe Radio interview with host Lois P. Jones was broadcast on March 30, 2011 and is archived on Tim Green's Site.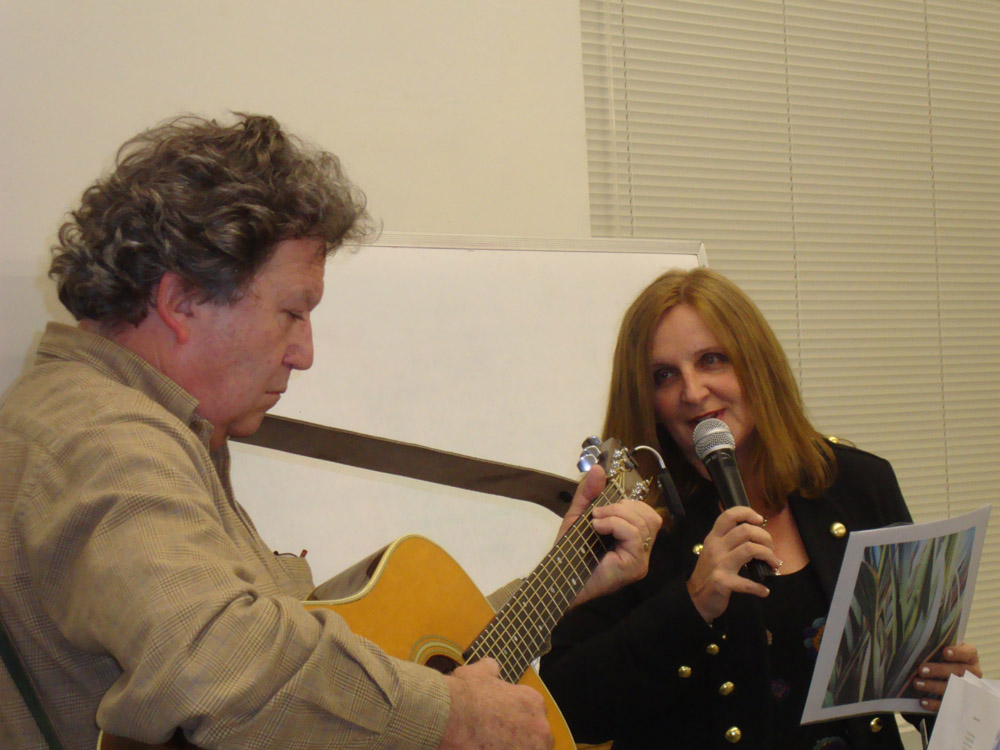 With Dr. Blues, guitar, at "Imagine Poetry" Reading at the Sunland Tujunga Neighborhood Council meeting, March 8, 2011.
I participate as co-organizer in the monthly Village Poets Open Readings at Bolton Hall Museum, where my role is to find and invite featured poets, musicians and other artists. I write a monthly poetry column in The Voice of the Village and maintain two poetry blogs, Chopin with Cherries and Poetry Laurels. For more information, see events and readings, and photos from recent events,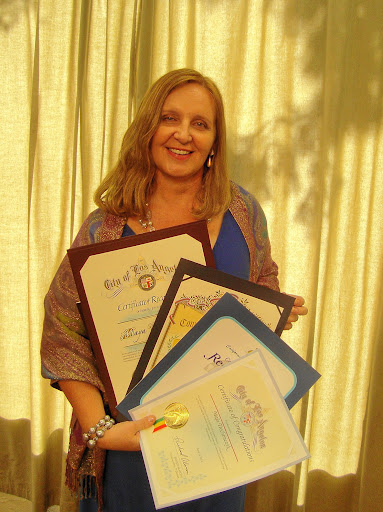 Maja Trochimczyk's Commendations for the End of Term as the Sixth Poet Laureate of Sunland Tujunga, April 2012.


Publications

My tenure as a poet-laureate is documented in three poetry blogs and a column in The Voice of the Village: